Theta Beta
Home page of Theta Beta Chapter of Beta Sigma Phi
Fayetteville, Arkansas

Welcome to our homepage. This site is under construction, so we hope to see you back soon!
Our Sisters:

Sharon, Carolyne, Janet,Cynthia, Mona, Christie,Karen,Sandy, Leslie & Brenda

Theta Beta is a Career Chapter.
We were chartered in 1991 by Cynthia and Janet with 12 members.

We are a RJ chapter, but our membership is spread from Preceptor to Ritual of Jewels.

We meet the second Monday of each month at 7:30.

If you would like to visit, or want to drop us a line, we would love to hear from you!
send an email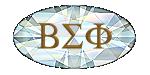 Beta Sigma Phi
I

Beta Sigma Phi International